Halloween 2023: The Best Ideas for the Scariest Party!

Celebrate Halloween with the scariest, most exciting party and costume ideas. Halloween is almost here!
Can you believe it? Halloween is just around the corner once again, which means at least for one night wearing a face mask won't feel that weird. Now, that's great but there are so many more reasons to be excited about it.
For one, there's a rerun of an old Halloween movie classic just about every night, which is amazing. Plus, this is just about the funniest party of the year, with both kids and adults having a great time. And then, it's also the spookiest night of the year, and let's be honest, who doesn't like a good old fright!
To get you ready for it, we've prepared this guide with the most amazing ideas, crafts and the very best Halloween offers. Since you don't want to get caught dressed as a zombie on the wrong night, let's clear the very basics of Halloween before we get started.
When is Halloween?
Here's the quick and simple answer to that question: Halloween is celebrated every year on October 31st. A somewhat more complicated matter is, why? The fact is that Halloween originally was a Celtic feast, the Festival of Samhain, which was a ritual to keep evil spirits away as the nights would grow longer and the days colder.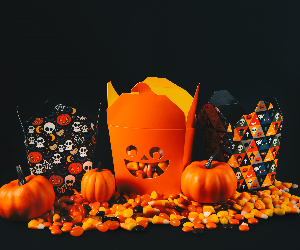 Source: Pexels
Back in the day, people would dress up and get together to light bonfires and set the night alight, quite literally. They would also pay tribute to the dead, leaving gifts or making sacrifices to keep them happy and at bay. That obviously is also the origin of the current trick-or-treating tradition.
The history of Halloween also has a Christian connection in that the following day, the first of November, is All Saints' Day, also known as All Hallows' Day. Therefore, the night before that celebration came to be known as All Hallows' Eve. That's where the name Halloween comes from, as the two words were joined together in common usage sometime at the beginning of the 19th century.
In the end, we might have more in common with the Feast of Samhain than we think. After all, between Halloween on the last day of October, All Saints' Day on the first of November, and then All Souls' Day the day after that, we spend three days celebrating the life and spirit of the departed. Just be sure to make celebrating the operative word in that sentence!
One thing that's for certain, is that you're going to need some sweets either for yourself or to keep the local ghosts and monsters knocking at your door happy! With a HelloFresh code, you can even get the goods delivered on Halloween, all at a fantastic price. It's not a problem if you're last minute, order from the comfort of your own home and get your treats delivered in just 15mins! Going out partying all night? Might need a caffeine shot to pick yourself up! Check out these Tassimo deals for a spooky discount on a fresh coffee machine.
Save big with this L'Or promo on the Barista Original bundle, a mouth-watering selection of coffee capsules to make the best ristretto, supremo or decaf drinks in town!
Terrifying and Cheap Halloween Costume Ideas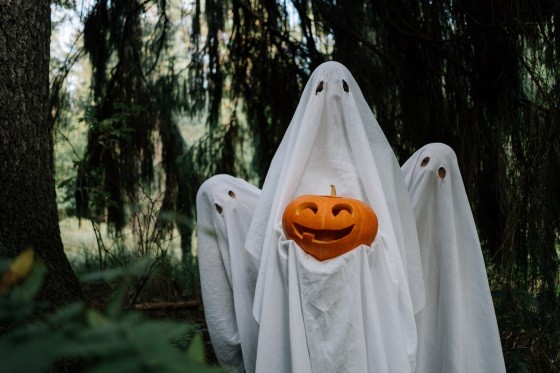 Source: Pexels
One thing the Celts didn't have, though, was Halloween shopping, which is like having cake without icing: not bad, but it could be better. In fact, it could be much better because when it comes to fun, nothing beats dressing up. Whether you're going for a trick-or-treat walk around the neighbourhood with the kids or attending multiple Halloween parties, your costume is going to make or break your night so take a look at our Clothing category and get the best discounts on your outfits.
We have a bunch of HalloweenCostumes.com discount codes available for you to browse and come up with the right look for Halloween 2023. If your goal is to get the prize for originality, you could check out their exclusive range of Halloween costumes, many of which are made in-house. We all know there are certain classic looks that simply never get old, like your superhero of choice, from Wonder Woman or Black Widow to Spider-Man. The problem with those is you are most certainly not going to be the only one for the night. So why not dress up as a human aubergine, for instance? They even have a whole load of wigs and accessories to spruce you up - you'll be amazed at the selection of gloves they have let alone the costume range!
For some cooler, more seductive options, we recommend heading over to take a look at our Shein offers. From slinky mini dresses to faux leather crop tops, they nail the spooky yet sexy Halloween look. You can even pick up some fun accessories including face jewels and bunny masks to really complete your show-stopping outfit.
For all the plus-size women out there, we know how hard it can be to find something cute for Halloween. Have no fear, Yours Clothing has got you covered. From pumpkin print skater dresses to lacey bodysuits to sexy fishnet tights, you're sure to find a spooky outfit to stand out in. They stock the latest in fashion items in UK sizes 14-40, as well as footwear in sizes 4-10 with extra-wide EEE, fits available. Pick up a Yours Clothing discount code we've found to save on your order.
Do you want more clothes shops where you can find great outfits for the spooky Halloween party? Then you should check out Belier and Bench's latest fashion offers!
Also, Chesca, Live Unlimited and Conturve are offering scary promotions, take advantage of them now!
Also don't miss out on Diffusion Discount Codes, Jaeger Promo Codes and justyouroutfit and pixiegirl promotions!
If you're wondering what to get your boyfriend or dad this Halloween, check out the Gillette discount codes available or reductions of up to 50% off on bestseller items with these incredible offers, available now at Gillette's UK online store!
If you don't want to go overboard, you can still get themed clothes for Halloween. The kids' range at Crew Clothing is a perfect example of how you can combine dinosaurs with trick-or-treating without having to actually look like Dino. Kit the kids out - browse through Halloween costume ideas for children who might feel too self-conscious in full costume, and you can even follow all the safety guidelines with their themed face masks!
Whether or not you're in full costume, you want to make sure you wear comfortable shoes. Now, you could dress up as a modern superhero in the shape of Michael Jordan, or you could be prancing around in your plague doctor costume, either way, you should take advantage of these Nike Halloween promotions and get yourself comfy trainers to get you through the night.
Easy and Scary Halloween Makeup Ideas for Kids and Adults
What's a costume without makeup? It's like Batman without Robin, like Tom without Jerry, like a big night out without a hangover the following day. Okay, maybe that one doesn't count but you get the gist: you can't have one without the other. So now that we have you sorted for your costume, here are some Halloween ideas for your makeup.
One thing you won't be able to do without if you're going for a full costume is face paint. From the Joker to Papa Legba or Dracula, the dramatic effect of fake blood on your face is unbeatable. The question is where to get it. The answer is right here, with the great list of Notino discount codes we have ready for you.
If you want to look scary you need to get googly eyes and go all-in with those big dark rings around your eyes, which means you're probably going to have to get a new eyeshadow palette, right? Visit our dedicated page for HQHair discounts to get the best prices both for your makeup for the night and also for all the skincare products you'll need to have your face recover from these exploits. (Don't worry, though, it's all repairable, and worth it!).
Halloween dress costumes and make-up aren't all about blood and gore, for some you're going to need proper products to complete your look, like for the most glam member of the Addams family - Morticia. Why not grab a LOOKFANTASTIC discount code to save on your eyeshadow, contour and lipstick haul? After all girls, Halloween make-up is even better if you can use it all year round! Top it off with a signature scent using a The Perfume Shop voucher code to make some heads turn at your Halloween party.
If you're looking for top-tier health and beauty products at affordable prices, though, you could do worse than checking out these Superdrug promotions. You'll find everything for your makeup, and while you're at it, don't forget to replenish your cupboard with toothpaste, mouthwash, flossers, the whole lot. What with all the Halloween sweets you'll be eating, you'll be needing all the help you can get! Your skin is also going to need some TLC if you've been caking on the white paint for your clown costume or if you've been trying to scrape off the copious amounts of fake blood you used for your Vampire bite. Head on over and pick up a Sephora discount code to save on moisturisers, skin masks and other pampering items. Need to wash out that coloured chalk or hairspray you used for your witch outfit before work on Monday? Have no fear, browse through the BeyondBeautiful offers we've found to save on shampoo, conditioner and more!
Where to Watch the Best Halloween Movies?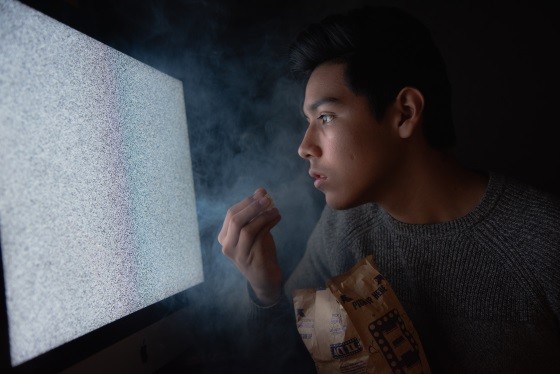 Source: Pexels
Going out for Halloween isn't for everyone, we understand that. That's no reason to dampen the spirit, though. You can have a lovely celebration by staying in with the family and exchanging gifts. At the end of the day, it's the start of the shopping season, which itself is the perfect excuse to treat yourself or a loved one to a new gadget.
If you're into phones, you might be getting excited about the launch of the new iPhone 14. Explore the Carphone Warehouse deals we have in store for you and profit from some of these amazing savings. Even if you're not mad about Mac, you could land a major bargain with the Google Pixel 4a with Bose headphones. Now that's certain to get the family excited.
Another gift that won't go unappreciated is a watch. This is an accessory that never goes out of fashion and adds the perfect finishing touch to any outfit. Head on over to our Watch Shop deals and browse through their fantastic range of men's, women's and kids' watches and jewellery. They stock the biggest in designer brands, the best in luxury and a whole treasure trove of smaller brands you might not have heard of that have beautiful quality pieces, all at prices you won't find anywhere else. Get them (or yourself) a gift that's going to last a lifetime.
Once things calm down, you ought to sit by the telly, eat your marshmallows and watch one of those Halloween movies kids love, such as a Stephen King classic or an old-school horror movie. The best way to do that? With a Now TV deal from our site.
It wouldn't be a film night without some spooky snacks. If you're staying in, why not treat yourself to some delicious indulgent chocolates using a Hotel Chocolat promo code? Snuggle down with a box of treats and even a cosy hot chocolate if you're really craving something sweet. For the movie marathons taking place, you're going to need something more substantial. Grab a JustEat promo code and save on your takeaway - from pizza to curry to kebab, you're sure to find something to feed even the fussiest of your friends.
For those of you that prefer a one-stop-shop for all your party or trick-or-treating goods, we of course have to mention Amazon. Whether you're looking for decorations from skeleton bones down to the straws in your cups to group costumes, they have it all. Pick up an Amazon voucher code to save even more on already fantastic deals. While we're on the subject of all in one sites, AliExpress gets an honourable mention, just be sure to get your orders in early as some items delivery time can be quite late. Be sure to save with the AliExpress promo codes we've hunted down for you.
It really doesn't matter how you choose to spend Halloween, the important thing is that you enjoy it in full. For all the rest, we've got your back.